Affiliated with University of Mumbai
HACCP compliant Food and Beverage Areas
Opportunities are knocking at your door!
In this age of contactless Hotel check-ins to payments, the Hospitality industry has seen a transformation from ever colourful & eventful culture of the Industry before Covid-19 bounced back to even more multi-coloured, action packed and glamourous new high in terms of guest satisfaction, more value for money, competition, growth in infrastructure and inventory. The Hospitality Industry has developed and adopted more sustainable solutions in all its activities. Job opportunities have enormously skyrocketed in the Travel & Tourism, Recreation and Entertainment Industry opening newer avenues in different segments of Hospitality Industry such as Entrepreneurship, Cruise Lines, standalone restaurants, Retail sector, Meeting & Events.

Post Covid-19 the Indian Hospitality industry has seen the growth in all sectors of the Industry, the FY 2023 has seen an enormous rise of 68-70 % in the Occupancy overall compared to 42-44% in FY 2022, the evident paradigm shift in consumer behaviour that is reflected in the hospitality industry. The desire to travel is very much prevalent since "revenge tourism" gained momentum. Hotels such as Cygnett Hotels & Resorts have increased their inventory by 100 rooms. In 2023, new hotel brands like Moxy by Marriott are offering more modern facilities to hip and young clients. Hyatt Centric is a boutique hotel perfect for the business traveller offering creative meeting rooms that look more like swanky offices than they do the average Plain Jane hotel meeting rooms. Tru by Hilton is a new hotel chain, with stylish and affordable rooms. Tribute Hotels are a network of exclusive independent hotels, each which offer their own unique guest amenities. ITC, Narmada, Ahmedabad, Gujrat opened with 300 rooms. ITC Hotels Ekaaya, Udaipur, Rajasthan opened with 117 Villas and many more…

Nobody even remotely does it better than India…and certainly not all those, soon to be passé, Hospitality Dinosaurs.
The Training & Placement team strives to develop the students while they are on campus so as to prepare them to ace the selection process during the final interviews. The team actively engages with the Hospitality industry on a regular basis to ensure best opportunities for our students.

The Training & Placement team at SRIHM is an excellent blend of Hotel and corporate experience.
Mr. Nixon D'mello has graduated from IHM, Mumbai and has worked with diverse companies and brands like the Taj Group, Sula Vineyards, Corona beer etc. Having completed his Masters in Marketing from NMIMS he has vast experience in Sales and Marketing.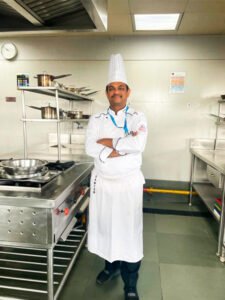 Chef Sameer Dighe is a highly competent, motivated and creative chef with hands-on cooking experience of 22 years in the hotel industry and 4 years of teaching experience. He has an exceptional ability to develop passionate culinarians.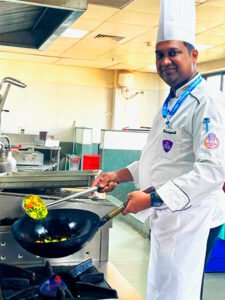 Chef Vinayak Shettigar has work experience over two decades in Indian, East European, Pan-Asian and Continental cuisines. His passion about food and traveling to new places led him to a career with the cruise lines. He is an individual with unwavering commitment to instill confidence and self–esteem in students by providing open communication lines and welcoming attitude when approached by students.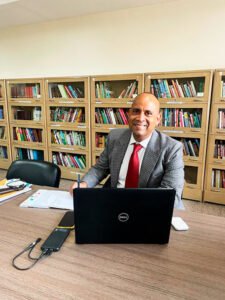 Graham Mark Miranda is a professional with over twenty years of experience in the hospitality industry, having enjoyed responsible positions at premier hotels like the Oberoi – Mumbai and the Taj Mahal Palace Hotel – Mumbai as well as Faculty member at the Institute of Hotel Management – Aurangabad. His educational qualifications include a Master's in Business Administration (MBA) from SP Jain Institute, Mumbai, a Bachelor's in Economics from St Xavier's College, Mumbai, and a Professional Certification Course in Communication Skills from Trinity College, London. Graham has vast experience covering various facets of communications and operations. He has also taught and mentored over 500 students, across age groups and seniority. He has written and published The Basics of English Grammar at your Fingertips, Soft skills in the Hospitality Industry, Unlocking the Power of the English Language and Effective Leadership through Effective Communication.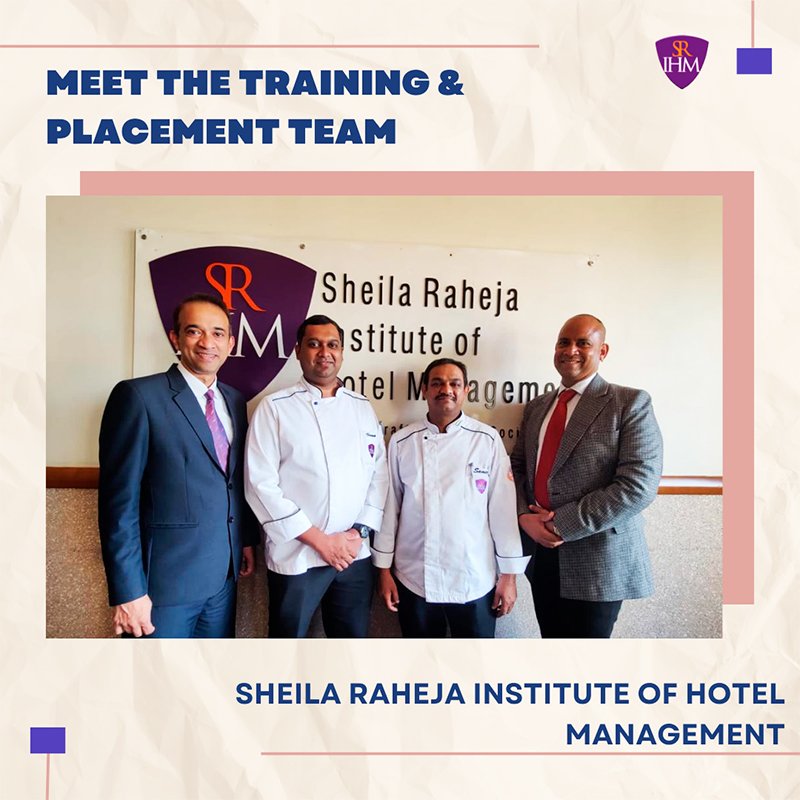 "The journey of a thousand miles begins with the first step." (Confucius")
At SRIHM, we firmly believe in the innate potential of each and every student. In the words of an inspired author: "What we are is God's gift to us; what we become is our gift to God." This is our principal objective – we wish to educe the very best in our students and so make them a treasured gift to the world.
More specifically:

● We train our students for a placement in an appropriate team where their talents and enterprise can be best utilized and for the overall success of the team as a whole.
● We prepare them for an active and fruitful participation in Group Discussions, where the collective wisdom of every member can be effectively harnessed for the eventual success of the team.
● We guide and assist our students in framing an impressive Curriculum Vitae (CV) and prepare them for an interview at every stage of the course.
● In Year 1, we simulate an actual interview and provide on-the-training for three months. This internship lays the foundation for their performance and success.
● In Year 2, we journey with our students in better preparing them for the final interviews.
● And, in Year 3, our students are meticulously prepared for the final and crucial test.
● All through and at every stage, our students are taught, trained and encouraged to make extempore presentations that will enhance their image and expedite their prospects.
● For any such presentation, topics are placed in a bowl and the students are directed to pick one. Thereafter, students are given a minute to prepare their thoughts and then make the speech.
● Students are graded on the following criteria: Grooming, Communication, Clarity of thought, Leadership skills etc.
● In a word, no stone is left unturned in bringing out the very best in our students. Indeed, "the journey of a thousand miles does begin with the first step."

The placement team interacts with industry and organizes On Campus interviews for the Third-year students so that they get exciting job offers even before they graduate from college.

The Placement team also guides the students on how to prepare their resumes and also trains them on interview handling skills. Students are also guided on the process to apply for Masters Degree in case they do wish to pursue the same after graduation.
To beat the rest, train with the mighty best
We at SRIHM believe that practice of skills leads to perfection in execution and presentation. Food trials are a part of the selection process by Hotels when they select students as part of the On-campus recruitment for the Food Production department. Our students are given an opportunity to practice their menu for food trials before the final execution in the hotel. Students are asked to plan a menu, prepare the indent, prepare and present the complete menu within the stipulated time. The evaluating panel comprising the Kitchen Head of the Department and the faculty members gives their inputs and suggestions for improvement.